Decor8london Ltd – DECORATORS – Richmond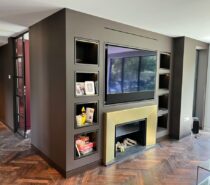 34a Crown Road
Twickenham TW1 3EH
Interior and exterior painting
House decoration
Wallpaper hanging
Plastering
Fitted wardrobes and carpentry work
Spray painting
Send Message to listing owner
Ratings
There are no reviews yet.
Fantastic team!! Excellence in all work undertaken!! I could trust , rely and recommend Gary and his team on all levels!! Nothing to much trouble and the final result flawless! Thank you for completing the look to our build project!
Beth | March 22, 2023
Cant rate highly enough. Gary and his team are faultless, skilled, quick and efficient. Just had our bedroom redecorated and I love it!
Tanya | February 23, 2023
Very pleased with all the work by Gary and his team. Great results. Wall papering outstanding. Considerate and kind people who worked with care in our home.
Julie | January 25, 2023
Gary papered a wall for us in our home with expertise and a highly professional approach. He is keen to deliver an excellent service and his experience shines through the process and result.
Kirsty | January 12, 2023
Gary at Decor8 has been decorating my house inside and out for about 6 years and I highly recommend! The finish is always fantastic, he is always creative suggesting finishes and getting the best results for the money. His team are a pleasure to have around the house, always happy and reliable and so proactive. The last job he did for us was a staircase plus hall& bathrooms and it's all gorgeous.
Cara | December 22, 2022
Gary and his professional and polite team have been faultless with all aspects of their work on our home. We are thrilled with the service and the results. Beautiful finish. ⭐️⭐️⭐️⭐️⭐️
Sophie | November 22, 2022
Gary and the team have been decorating our house, room by room for a while and they have been fantastic - the finish is excellent and they are incredibly reliable and a pleasure to have around. Nothing is a problem
Danielle | November 3, 2022