HDJ Furniture – CARPENTRY/ FITTED FURNITURE – Runnymede and Weybridge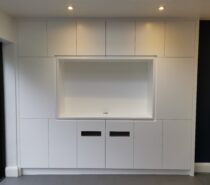 We provide London, Surrey and surrounding areas with high quality bespoke furniture, from design & manufacture to installation.
During the design process we will discuss and provide a 3d model of your furniture and ensure that the final product will need both your needs and expectations.
We manufacture all of our furniture in our Surrey workshop to ensure it's fully tested and everything works perfectly before is painted/finished and finally arrives at your home.
Our process ensures that by the time we are installing your furniture the disruption to you is minimal, you will hardly notice we were even there!
City & Guilds Carpentry and Joinery Diploma Level 1, City & Guilds Carpentry and Joinery Diploma Level 2
Carpentry and Bespoke Fitted Furniture
Send Message to listing owner
Ratings
There are no reviews yet.
Mike fitted our loft cupboards which were very tricky angles and we couldn't be happier. Very reliable, very neat and attention to detail is amazing. Would highly recommend and def use him again for future projects.
Zoe | May 29, 2023
Mike fitted us beautiful bespoke cupboards in our bathroom to store our washing machine, tumble dryer and boiler. He went above and beyond in every category and we are absolutely thrilled with the finish product. Everyone who has seen it is blown away (and jealous) of our fancy utility cupboard! Worth every penny and zero complaints!
Sarah Aizenberg | May 24, 2023
Mike fitted bespoke cupboards in my utility room. Beautifully done, couldn't be more pleased. So professional and friendly. Highly recommended..
Kate van der Watt | May 19, 2023
I was recently recommended the services of HDJ furniture by a family friend and was very impressed with the service. I was looking for a fitted wardrobe and Mike took me through all the options available and was really friendly and helpful throughout. When it came for it to be fitted he was very quick and tidy and the results were stunning. I've only ever had standard furniture before and the quality difference is night and day.
Daniel | January 29, 2023
Mike did a completely new tv unit in our house (pictured). I was so impressed with the design process, communication, cost and joule agree the finished product is superior quality! Thoroughly recommended!
Laura | January 24, 2023
Mike and his team are friendly, courteous, and above all diligent and competent, as soon as they start their work you're aware they can be left alone to give you the product you've paid for. The design images produced by mike are amazing, seeing your ideas come to life and the diligence with measuring up and tidiness was fantastic, very rare from trades. They also made me a few bespoke cupboards for boilers and such. They are also very competitive. You'll not got far wrong appointing these guys.
Steve - flat refurb | January 19, 2023
HDJ Furniture fitted our bespoke shelving units and were brilliant from planning and quoting, through installation and after, even coming back to help fit my TV back on the wall. Very competitive pricing, clean and tidy when working, always on time and the final product is perfect. I fully recommend this business and I will 100% be using them for future work.
Steve | January 19, 2023
I used Mike personally and professionally recommended him on few of my projects as an architect. All client (myself included) are exceptipnally happy with his work. Nice guy who loves his trade. Highly recommended!
Maiia Williams | January 19, 2023