Rickwood Kitchens – KITCHEN INSTALLATIONS – Enfield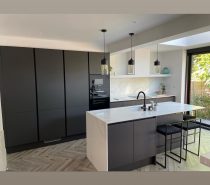 Rickwood kitchens is a professional company that specialises in the installation and designing aspect of kitchens. We can also supply certain brands of kitchens via our trade discounts with various companies.
A vast amount of our work is through personal recommendation which is something we value highly.
Every kitchen refurbishment is project managed personally by myself to make sure all of our clients can be at ease and have a relaxed experience.
With 15 years of experience we feel as though we have the correct formula to tailor to all our clients needs in creating an outstanding and high quality finish.
The kitchen is the heart of a home and we pride ourselves in making your dream kitchen become a reality.
Kitchen Designers, Showrooms and Installations
Send Message to listing owner
Ratings
There are no reviews yet.
Rick provides an extremely high standard of service and genuinely cares about delivering what the client wants. His attention to detail was second to none. Both he and his team addressed any changes we had promptly and efficiently and were charming to deal with, always providing a positive attitude. They ran to schedule like clockwork, which is invaluable when you are without a kitchen. I would highly recommend using him! We love our new kitchen.
Gill C | March 23, 2023
Rick is a very professional and skilled tradesman. First class service! We are so happy with the result and wouldn't highly highly recommend!
Ellie OConnor | March 11, 2023
The service provided by Rick was excellent in every way and exceeded our expectations. He explained the install process very clearly and the work required was carried out to a very high standard. We were also provided with regular updates on how the install was progressing thoughout the fitting. Rick also assisted us in sourcing quartz worktops and has project managed the templating, delivery and fitting. Once this, was carried out to the highest standard. Rick's attention to detail is second to none and we would not hesitate to recommend him to our family and friends. Thanks Rick, my wife is ecstatic as she now has her dream kitchen.
Mike & Dee | March 2, 2023
Rickwood Kitchens orchestrated the design, supply and fit of my kitchen. As a first time buyer, and being new to any kind of renovation work, he thankfully organised the whole processes from start to finish, including having someone do the electrics and plumbing along the way. The kitchen was fit perfectly - very pleased with the final result and looking forward to moving into my new property. Thank you again Ricci!!
Simona V | February 25, 2023
I am absolutely delighted with the kitchen and laundry room. Riccardo went above and beyond, he gave me the best level of service possible. His attention to detail is masterful. I couldn't recommend him more highly - excellent level of customer service. Thank you very much. I'm thrilled with the new kitchen.
Erika Schoeman | February 6, 2023
I have nothing but praise for Riccardo's work. He designed & installed my new kitchen offering a number of simple & effective solutions to (what we thought were) daunting problems. He liaised well with my builder & kept me informed every step of the way. Riccardo was punctual, precise, clean &, I would honestly say, value for money when you see his talent. His work ethic, honesty & attention to detail is second to none. I highly recommend his services if you are looking to install a new kitchen. The review only allows 5 stars but I would gladly give him 10!!
Marco C | January 15, 2023
Rick was an exceptional professional throughout the entire phase of our kitchen installation and renovation. From start to finish, whether it be sharing ideas for a layout through to the finishing bespoke touches to ensure a perfect kitchen, his level of care and detail is second to none. We can't thank you enough for the end result - nothing was ever too big or too small for you to deal with. Thank you once again!
Dino C | December 16, 2022
I've worked with Rick on several kitchen projects and was fully aware of his quality but I have to say that the work he did on my own kitchen really blew me away! His attention to detail is unparalleled, workmanship is top notch and he is full of excellent ideas (completely changed the initial design and we absolutely love it!). If you are getting a new kitchen fitted then I wouldn't hesitate for a second to recommend Rickwood kitchens. Satisfaction Guaranteed 🙂
Prad Patel | November 30, 2022
Riccardo was recommended to me by brother and seeing the work he had previously done on my brother's kitchen made it an easy decision. I wasn't disappointed. Riccardo and his team (plumber, electrician & decorator) were superb and produced a brilliant finish. I had a good idea beforehand how I wanted to transform my kitchen and Riccardo did exactly that.
Jamie Wood | November 15, 2022
Riccardo and Emilio have just finished installing our kitchen. The work they have done is truly phenomenal. They are punctual, tidy and hard working and I have no hesitation in recommending Rickwood kitchens if you have a kitchen project in need of a designer/fitter. We had an idea of what we wanted our kitchen to be like - Riccardo has the vision and expertise to not just turn that idea into reality, but to surpass all of our expectations. His eye for design and ability to craft solutions to challenging room layouts is second to none. His project management, contacts in the industry (countertops, splashbacks, appliances - you name it, he knows a guy) and his own skills have meant all the hassle and stress of a kitchen build has been taken away. We're at the end of a very long and challenging extension project, the kitchen was always going to be the final hurdle, but with Riccardo and team, it's become the icing on the cake.
Ashoke & Christina | October 24, 2022
I thoroughly recommend Rik and his assistant Emilio. They were friendly, reliable, professional and hardworking. Rik took the time to explain everything in detail and gave us practical advice. It was clear that he is very experienced in fitting kitchens. They made the whole experience stress free. We had the Bora hob fitted and he prepared the ducting and not many fitters know how to do this. Many thanks Rikwood Kitchens
Katerina P | October 5, 2022
Rick designed and fitted the kitchen in our new extension this summer and did an exceptional job for us. His eye for design is brilliant, making the most of every space and creating a fantastic look and feel. His knowledge of materials and kitchens means he can make anything fit, work, or just look expertly finished. He also has excellent connections with suppliers, which made everything easier too. The one or two issues we had with things like getting an extractor hood to integrate, Rick found an answer to quickly and without stress… HIGHLY recommended.
Tony C | October 4, 2022
I rarely write reviews, but I cannot think of a better way to thank Rick and Emilio for the trully amazing job that they have just completed for me. I am extremely fussy when it comes to detail and pick my tradespeople with great care. However, on our kitchen project Rick was assigned to the job by our kitchen design company. All I can say is thank god I put my trust in them and in RIck and Emilio, wow...I needn't have worried. These guys are the most professional, decent, honest, hard working and customer focused pair I have ever met. The work they did for me is trully outstanding and to the highest level of quality with great attention to detail and levels of perfectionism that high end installs warrant. Throughout the project, Rick explained any obstacles along the way, but reassuringly always told me the solution to fix the issue, so he kept me fully in the loop, while taking away any stress out of the build. I will always recommend these guys in future as they are a very rare find. They are on my hot dial for recommending to others and I think they deserve their reputation as the positive reviews are backed up by the quality of their work
A A | October 1, 2022
Rick is one of the most meticulous, honest and reliable tradesman we have ever come across. He fitted our handmade kitchen and also some units for our utility room with extreme care and detail. I cannot emphasise enough how hard it can be to find a good contractor, but with Rick you certainly get one. His work is clean and professional. Would highly recommend him for any form of kitchen installation!
Nikesh | September 14, 2022
Riccardo made the impossible POSSIBLE. First of all, let me just say that if you need a kitchen fitter with all the main trades people by his side (electrician, plasterer, plumber, quartz fitters), then Riccardo is the man. His skill, expertise, knowledge and pure passion for the work are so high that once it was all done, he still kept coming back to adjust, tweak, remove, refit, redo and reassure that the kitchen will be exactly what we asked for - he wanted us to be happy customers, and we certainly were, and still are. Many of the well-known kitchen companies, such as Hd, Mg and Wr had their designers come round and measure up. They all said that we could definitely have an extractor fan above a kitchen island. We were not 100% convinced, but they all were. In the end, our loft installer recommended Riccardo. He came round, started measuring up and within 30 minutes told us that we definitely can NOT have an extractor above the kitchen island! Although we were disheartened at first, Riccardo gave us an alternative design layout, and we were simply stunned! He organised the plasterer, electrician, plumber, quartz fitters and kitchen company to deliver our new kitchen. Riccardo's carpentry is pretty awesome. He created some unique bespoke carpentry pieces, such as units around steels, turned upright kitchen units into floating horizontal TV units, book shelves for cookery books and even fitted our wood wall panelling. He made the impossible, POSSIBLE. We are so grateful for his help and understanding during a difficult ground floor renovation. Thank you so much, Riccardo for everything.
Rup and Monica Sharma | September 7, 2022
Ricardo has done a magnificent job with my kitchen and I\'m truly impressed with his professionalism, knowledge and expertise coupled with a lovely dispositon and friendly approach. His knowledge is wide, his work ethic amazing and his willingness to go the extra mile is beyond expectations. Punctual and driven - Ricardo will not rest until everything is perfect. I\'ve already recommended him to a neighbour and also to a friend and am very happy that I was pointed in his direction. Annettec
Annette C | August 13, 2022
We are delighted with our new kitchen. Rick did a fantastic job. We had several bespoke elements that he crafted beautifully. We are really pleased with the pantry that he designed and built. He was a pleasure to work with and has a good team of suppliers who he recommended for appliances and worktops. Our builders recommend him to us and we would highly recommend him.
Paul and Jess | August 10, 2022
Riccardo workmanship and craft is second to none. We couldn't have wished for a better kitchen fitter. His advice, honesty and general care was outstanding. We have had nothing but compliments on our kitchen including from other tradesman. His attention to detail and communication was superb! HIs costs are very fair for the level of work he delivers and we would highly recommend him and will be to friends and family.
Alistair | August 7, 2022
Rick came recommended to us by our builders and we couldn't have wished for a better kitchen fitter! His advice was truly invaluable and his workmanship is second to none, with the finished result being better than we'd ever imagined. Rick is a perfectionist and it absolutely shows in his work – I would have no hesitation at all in recommending him to anyone considering having a new kitchen fitted.
Tricia | July 21, 2022
A massive thank you to Rick for his immaculate craftsmanship. He is punctual, honest and his work is of the highest standard I have seen so far. He knew exactly what we wanted and delivered on time. He is professional, reliable and great at coordinating the job from start to finish, making it a smooth and stress free experience. His attention to detail and quality of work is incredible. Very clean and tidy and never cuts corners. I would highly recommend Rick to anyone looking for a professional fitter. He is the BEST!!!
Maria A | June 28, 2022
I highly recommend Ricardo from Rickwood Kitchens. He was professional, very responsible on the phone throughout the whole process, highly skilled, personable and helpful in general. He and his team did a fantastic job.
Mike M | June 15, 2022
Ricky was introduced to us by our builders to install our kitchen which was the centre piece of the transformation of our home and we are so grateful they did. He kept us informed every step of the way of what he was doing and when there were bumps in the road (and there always are), he used his vast experience to come up with pragmatic and creative solutions to whatever the challenge. His standard of workmanship was second to none and despite being supplied with the incorrect items by the kitchen manufacturer (not his fault), Ricky made sure the job was finished to the highest standard. He also went that extra mile and helped us with sourcing our work tops and glass splashback which finished off our kitchen superbly. He is very professional, tidy, amazing time keeping and takes a pride in his work. I cannot recommend Ricky highly enough for kitchen design and fit. He left us with an amazing kitchen that is now the centre piece of our home. Thanks Ricky.
Jackie B | May 16, 2022
Great attention to detail, Rick's team all arrived exactly when promised and a beautiful kitchen at the end of it!
Dave Watts | May 14, 2022
Riccardo's attention to detail and diligence is second to none. From the moment he arrived, it was a no stress installation as I had full confidence he would do an amazing job. Even after the fit, he's always around to answer any questions or to pop in. Massive recommendation here.
Leon Allen | May 13, 2022
Rick is the best at his trade! Punctual, knowledgeable of what we needed as wrens design wasn't functional. Quality work and was also able to work within our budget!
Fiona & Duval | April 25, 2022
I am truly impressed by Ricardo's craftsmanship, attention to detail and precision planning. Right from the get go Ric was very informative, taking much care to keep us up to date with progress, and next steps throughout. He also planned all parts of the project - from electrics to painting to plumbing efficiently to ensure the kitchen was fitted in the quickest time possible. As a mum of 3 young kids, i was worried about the lack of major appliances in the home including a hob and oven during the fit. Ric was very accomodating to ensure this period was limited, even to the point of making extra trips to our home to ensure we had appliances up and running as quickly as possible. As one of the best tradesman I've worked with
Dipti G | February 26, 2022
We were recommended Rick through our builder and I am so glad they did! Rick is a genuine and lovely guy who takes so much pride in his work, as if it was his own kitchen he was fitting. From the very beginning with designing our kitchen, Rick has been amazing. Nothing was ever to much trouble for Rick and he always communicated with me and kept me up to date throughout the whole process. Rick honestly took all the stress away from us from dealing with the delivery of the kitchen and appliances and sorting out any problems along the way. We had our kitchen fitted this week and all I can say is wow! Rick has fitted our dream kitchen and paid attention to every little detail ensuring that it was perfect. I would have no hesitation in recommending Rick and will be forever grateful for all he has done and fitting our dream kitchen. Anyone wanting a new kitchen please use Rick - you will not regret it!
Jay H | February 25, 2022
Rick is meticulous and full of good advice. We couldn't be happier with our beautiful new kitchen.
Wendy V | February 13, 2022
Riccardo was recommended by a friend . I am so pleased we decided to go with him . He is a perfectionist and his attention to detail is spot on . He is also tidy and well organised . He was very patient with me , always replied to my messages and returned all my calls . I just wished all the tradesmen I had during our Reno were as highly skilled as Ricardo . Everything is just perfect . I would highly recommend him .
Dora | February 12, 2022
Rick came highly recommended to me and he did not disappoint me at all. He is professional, approachable, takes the utmost pride in his work, paid attention to every detail and more importantly made me feel totally involved in the whole process ensuring that I was pleased with the outcome. I would echo previous comments in that I would highly recommend him and have already done so. Thank you so much Rick for doing a superb job in transforming for my kitchen; it is unrecognisable! Sharon
Sharon | December 11, 2021
I would have no reservations in recommending Riccardo. His attention to detail from initial contact through to the after care is hard to come by. The quality of his workmanship is first class. A professional dedicated kitchen fitter who is hard working, respectful and who takes great pride in his work . Thank you Riccardo we could not be happier with our new kitchen
Luisa | October 26, 2021
Totally in complete agreement with all the reviews posted here. What a well oiled machine! Everything was expertly coordinated, with an equally expert team. From the initial ripping out of the existing kitchen to the plastering, painting and fitting of the nee kitchen. However, the most impressive feature is Rick's attention to detail; pointing out things that I didn't spot and (most importantly) putting them right. It's a shame that Rick doesn't do bathrooms, otherwise he wouldn't have been allowed to leave! Thanks again Rick!
Andriana N | October 15, 2021
Rick was highly recommended to us by the shop where we bought our kitchen. Rick fitted our kitchen in August and it's truly amazing. His approach was friendly and very professional. He works very quickly, respectful, neat and tidy and takes a lot of pride in his work. His craftsmanship is of very high standard and his attention to details was just unbelievable. He is a perfectionist. Thank you so, so much(wish most workmen would take a leaf from your book). We're are very happy with our new kitchen. Everyone who visits us has complimented you for such high standards of workmanship. We've have recommended you to everyone.
Carol & Osmand | October 13, 2021
Rick fitted our beautiful kitchen over the summer and it is truly stunning. His work ethic was second to none always prompt, polite, very clean and his attention to detail is undeniable. A true professional from the initial consultation to the fit, always there to answer any queries or concerns and he made us feel so secure and satisfied. Months on we have had no issues and still have the biggest smile walking in to our stunning kitchen. Thank you Rick, we recommend you to everyone.
Rachel G | September 26, 2021
Rick thank-you so much for fitting our new kitchen,your attention to Detail and expert fitting is first class.Our kitchen looks so.sleek and modern.To have you fit our Kitchen was such a pleasure as You are hard working and professional in every way. We would recommend you without hesitation.Thank you so much.
Hulya | September 17, 2021
I now have the kitchen of my dreams and with minimum disruption too, thanks to Riccardo. He designed a kitchen which has maximised the space and provided us with all the storage space we need. He came up with original, inspirational ideas that have turned a drab space into a beautiful spacious kitchen. He, also recommended places to get applances etc which was incredibly helpful and he recommended the Blanco sublime sink which has been a game changer! The job was well coordinated and completed with minimum fuss. His craftsmanship is excellent and he worked quickly, was quiet and tidy.
Lynne | August 24, 2021
Rick was fantastic from start to finish. During his first visit to ours we went through our rough ideas for the kitchen and what we wanted and Rick gave great advice to what was and wasn't possible and what would make our kitchen more workable. Rick was extremely thorough and was able to start the works quickly. Rick is an absolute perfectionist and paid attention to every single detail. He was able to organise all other tradespeople to complete the other bits and pieces works who were also great. We are so so please with our new kitchen and would not hesitate to recommend Rick. would 100% use again.
Adam and Jasmin | July 7, 2021
What a fabulous job Ric has done. My kitchen has been transformed. Ric and all his colleagues are all very professional with great attention to detail. They all treated my home with respect and were very clean and tidy. I am so pleased with the end result. It was worth waiting for. I couldn't recommend Ric highly enough; his standard of work is excellent. His approach is friendly and professional and he keeps you up to date from start to finish.
Penny | June 17, 2021
Rick was recommended to me and he was a pleasure to work with. From our first meeting right to the final day of installation, he was patient, listened to my ideas, provided suggestions as well as being extremely neat, tidy and efficient and was a great help dealing with the deliveries, dealing directly with the suppliers – all key characteristics you look for in a tradesman. What also impressed me was his attention to detail, with work done to a very high standard – a great professional who takes pride in his work. I would definitely recommend him for anyone looking to fit a new kitchen!
Hind | June 9, 2021
From the moment we decided on a new kitchen we knew it would have to be Rick to fit it. No questions asked. Rick was recommended by a friend who said " trust me, you won't be disappointed", and she was right. It was our first kitchen and Rick was there to support, help and guide us every step of the way. Rick was efficient, patient and very organised. He carried out a pre site visit, checked plans and liaised with our supplier. Rick's work is second to none done with so much care and joy. Our kitchen supplier saw pictures and said "your fitter is wicked, everything looks perfect" THANK YOU so much Rick for being our amazing fitter. Your patience with our journey and all the time and effort you spent making it perfect is so very appreciated. Hopefully in years to come we will have the pleasure of a bigger rickwood kitchen!
Shez | May 29, 2021
Ricky you have done an amazing job on our kitchen, from a dark old misserable kitchen to a light, bright and airy one, we couldn't be happier and are so grateful. We LOVE it! Ricky and his team are amazing, professional, understanding, patient people and our journey was absolutely hassle and stress free from beginning to end. Ricky's expert advice made our decissions so much easier and less painful. An amazing craftsman with an amazing team, would highly recommend to anyone (already have done). Thank you.
Maria Inzani | May 18, 2021
What can I say in this review that hasn't already been said about Riccardo's fantastic work? I am so grateful that a chance conversation at my local kitchen company led me to Rickwood Kitchens. Super-professional, generous with his time and knowledge and smart for ideas and solutions to obstacles due to space limitations (I was desperate to fit in a dishwasher!), he project-managed everything from start to finish, including a redesign of the original. I now have a dream kitchen that I would have never thought possible without his expertise and experience. Completely trustworthy and reliable, Riccardo's work is second to none.
Dina K | May 16, 2021
A big thank you for designing and fitting such a fabulous kitchen. Ric had some great ideas and was supportive all the way through the process. Extremely happy with the end result, would highly recommend.
Andrea P | May 4, 2021
A massive thank you to Rick for fitting the kitchen of our dreams. Rick came recommended to us and I'm so glad he was. Throughly professional, knowledgeable and great workmanship. He dealt directly with Magnet with regards to a broken cabinet and damaged door, a real perfectionist. I wouldn't hesitate to recommend him. Thanks so much again Rick.
Sally | April 11, 2021
Rick came highly recommended & I can see why. He's professional, enthusiastic & very good at what he does. He's very helpful & approachable, always there to answer questions & make suggestions. He's a pleasure to work with. He works fast & efficiently & never cuts corners - totally dedicated to making his kitchen installation a smooth process with a lovely end result. Anyone working with Rick can be sure of a stress free experience & a well fitted lovely kitchen.
Adele | April 3, 2021
We are so pleased with the work that Rick has done on our kitchen, it is so open and welcoming. He pays so much attention to detail and his professionalism and skill is second to none. He went over and above what we asked, and was really efficient and got the work done in great time too. I couldn't recommend him more.
Gabby & Jimmy | March 27, 2021
We are so pleased and thankful that Ricardo was recommended to us, he literally re-designed and refined our kitchen. Not only has the process been swift, the standard and quality of work is to such a high standard. Ricardo focuses on the very finer details that really enhance your kitchen. The whole process was smooth and Ricardo was the lynchpin and liaison in ensuring we sought replacements for some of our damaged doors. We are super pleased as installation was only four days and the price was affordable. Highly recommendable! Many thanks for all your work Ricardo!
Hugo & Jerkole | March 5, 2021
We are so pleased that Ricardo was recommended to us for our kitchen fitting. He has done an amazing job fitting our kitchen and it looks beautiful. He is extremely efficient and hard working and fitted our kitchen within 4 days which was great! We had a couple of issues with our kitchen cabinets as they arrived slightly damaged from the supplier. However Ricardo dealt with it all directly with the supplier and managed to sort it out very quickly. He is very professional and takes great pride in his work which really shows in the finished product. Thank you Ricardo for making us the kitchen of our dreams!
Mehvish & Atif Butt | February 28, 2021
I found Rick on Instagram and started following him as I was contemplating getting my kitchen done. I initially communicated via Insta and he was prompt in his replies and extremely professional. I knew at that point, without even speaking to him, that he was my kitchen fitter. He took me through every stage of the journey, from consultancy and design to actual fitting. He is unbelievably clean and tidy and has great time keeping. Rick is easygoing and you can always tweak your design if needed. I would not hesitate to recommend him and would defo use him again in the future.
Natalie B | February 25, 2021
Ricardo was recommended to us and we are absolutely delighted that he was able to fit our kitchen. From our first meeting to him completing our kitchen, working with Rick and having him in our home has been an absolute pleasure. We are so thrilled with the result. Everything ran completely smoothly and to schedule, with everything left clean and tidy at the end of the day. We will be recommending Ricardo to everyone we know. The dog also loved him and will miss his early morning arrivals! Ricardo is a true master of his craft. Thank you.
Kate | January 19, 2021
Would just like to say a massive thanks to Rick. If you are going to have a kitchen fitted well I wouldn't waste anytime looking for anyone better. We had Rick fit our previous kitchen and had to get him back. Where he designed, supplied and fitting our new kitchen and we couldn't be happier just in time for Christmas. His attention to detail and great design options were all brilliant and so glad we listened to his opinions and you can really tell someone loves the job they do. I really couldn't recommend Rick anymore. Thanks again.
Mhairi & Francesco | December 19, 2020
Rick did a fantastic job fitting our new kitchen. We couldn't be more pleased with how it looks. Throughout the whole process he was fully committed to ensuring everything was done on time and remained in constant contact with us. We had lots of issues with deliveries arriving on time but Rick was flexible and ensured this didn't stop him from getting the job done. He was also very accommodating with arrival times when we needed to leave for work early. He had lots of great ideas to improve the original plan. We highly recommend Rick to anyone looking to have a new kitchen fitted.
Julie and Lewis | November 28, 2020
Ricky was very helpful. He had lots of ideas and came up with a good design. He was very thorough and efficient and easy to work with. We love our new kitchen and wouldn't hesitate to recommend him!
Jackie | November 22, 2020
I would have no hesitation in recommending Rick to anyone looking to have a new kitchen fitted. He removed my old kitchen, fitted a new floor, lights, units and appliances and made good the decoration in less than a week all to a very high standard. His suggestions regarding flooring and lighting were extremely helpful including signposting to websites where free samples could be obtained. It has been a pleasure having Rick working in my home.
Sheila | November 21, 2020
Rick was recommended to us and we have not regretted the decision once for Rick to replace everything in our very outdated kitchen. From our initial meeting to discuss designs to the final outcome, the whole process has been very professional. Rick not only helped with design ideas he project managed the whole installation- employing all the necessary trades. It has been a pleasure to come home from work to see amazing progress on a daily basis - our kitchen is now totally unrecognisable from three weeks ago. His attention to detail exceeded all our expectations. We would recommend Rick and his team to anybody.
Deborah and Adam | November 14, 2020
Rick fitted our new Howdens kitchen in October and he has without doubt fitted it to perfection. He has done a beautiful job! Rick was always on time and tidy throughout the installation leaving no mess during or after. He also worked very efficiently completing the job in 4 days. Rick asked throughout if we were happy and often had ideas for small finishing tweaks which really added to how special the finish was. I would highly recommend Rick to anyone that asked. He is a master at his craft. Thank you Rick for fitting our kitchen, it exceeded our expectations and we would not hesitate to recommend him.
Payal P | November 4, 2020
Our beautiful kitchen was the first room to be completed in a short space of time and that wouldn't have been possible without Rick's impeccable design, work ethic & superb skills. The quality of his work is first class and I would highly recommend anyone to get in touch with him if they need a new lovely kitchen! THANK YOU RICK 😀 !
Mariam | October 26, 2020
Rick fitted our new kitchen and it is absolutely amazing. From helping us plan out the space to maximise storage to the expert installation, Rick did an incredible job. He's extremely professional And polite, knows his stuff and the quality of his work is first class. We would highly recommend Rick to anyone looking at doing a new kitchen. Thanks again Rick you've absolutely exceeded our expectations and given us a beautiful new kitchen!
Carmela | October 22, 2020
Rick fitted our kitchen last year and we could not be any happier with the result. He's very professional and showed this from the first meeting, always punctual and stuck to the fitting timeline. Rick's attention to detail is second to none, nothing was too much to ask. Rick helped with the design layout and had some fanastic ideas and solutions to make the space work best for us. The quality of Rick's work is fantastic, we would recommend him to anybody looking for a kitchen fitter.
Yeldem | October 17, 2020
Ricardo fitted our kitchen a couple of years ago and he did the most amazing job. He is reliable, knowledgable, professional and highly skilled. He takes huge pride and care in his work, was always on time and did everything he could to make sure you were happy. He did so much more than we asked and gave excellent ideas and advice which made our finished kitchen just perfect. It's rare to find someone like Rick and I highly recommend him to anyone needing a fitted kitchen. Thank you Rick for our beautiful kitchen which makes me happy every day to be in.
Monique P | October 14, 2020
A massive thank you to Rick for designing, supplying and fitting our new kitchen which looks and feels amazing. Right from the beginning, Rick has listened patiently to our kitchen requirements and has delivered a kitchen well beyond our expectations. I doubt we would have got such an exceptionally high standard kitchen without Rick's installation workmanship and his invaluable advice on the design, especially the selection of worktop and matching backsplash, which has perfectly complemented the rest of our kitchen. Rick's professionalism, wealth of experience and attention to detail were evident throughout the project, making the whole installation smooth and stress-free. He takes pride in his work and delivered a kitchen that's functional, minimalist with sharp, clean surfaces, yet warm and sleek enough to become the family's social focal point. In addition, what impressed me most with Rick is his customer service. Rick will go above and beyond to please his customers not only during the installation, but also his after-care service has proved to be outstanding. I highly recommend Rick to any potential customer who needs the services of a competent, experienced and efficient master kitchen designer and fitter and I have every confidence that he will make your dream kitchen come true.
Lisa C | October 11, 2020
Me and my mum could not be happier and more thankful to Rick for our new kitchen. What a beautiful transformation!!! The whole process was so smooth and stress free, giving us ideas and advise to help us create the perfect kitchen for us. From the simple things to bespoke work to get the most out of our small kitchen. Rick's work is of a perfectionist standard in just 2 weeks! Not only is he so kind and respectful but also clean and tidy which is a bonus when your having work done to your home. The confidence i have in his work is the reason i would highly recommend Rick to anyone having their kitchen done. Thank you
Antonia Vrachimes | October 11, 2020
We would totally recommend Rick, his workmanship and work ethic is above reproach and of the highest standard. He is a professional, hardworking and reliable fitter. He looked at everything in great detail and we felt comfortable that he has ability in his trade to deliver our dream kitchen. Great communication, full days work and beyond - he delivered in the timescale he set at the start. He planed and coordinated works of his electrician who also did a fantastic job of running new electrics into the kitchen and fitting a new fuse box. The overall quality of finish is exceptional. Our kitchen looks nothing like the one we had before plus all units are fitted perfectly and appliances connected. Rick did a truly exceptional job and we have already recommended him to our friends as we know that they will not be disappointed. Thank You Rick!
Ania & Danny | October 10, 2020
A huge thank you to Rick and his team. The quality of the kitchen is excellent. It was everything we wanted and more. Great combination and honesty regarding the work. Job was done on time and to a high standard. Would recommend his work to anyone.
Dianne D | October 10, 2020
We had used Rick before for our previous kitchen and there was no question we'd be using him again when we moved house. From start to finish Rick was amazing, he took us through all the options and helped us design our perfect kitchen making the whole experience stress free and fun. He was professional, reliable and got the whole job done in less than a week. So happy with the final result can't wait to get in there and start cooking!
Rosalee | October 9, 2020
Without doubt the very best tradesman I have ever employed. I count myself so lucky that Riccardo was recommended to me. He is an absolute dream to work with. Punctual, knowledgeable and highly skilled at his job. Always contactable and knows his stuff inside out. Riccardo works at a pace that is rare these days and my whole kitchen was fitted within a week and ready for the worktops. I have an unusual shaped kitchen but every angle and joint was cut and fitted to perfection. Thanks to Riccardo I have the kitchen of my dreams with absolutely no hassle .
E. Hicks | October 8, 2020
Ricardo was a pleasure to work with. We changed our downstairs to create an open plan kitchen with an island - Ricardo was great with suggestions and worked closely with our builder around electrics etc.. to make sure all was prepared correctly before he fitted the kitchen. Great workmanship and we are very happy with our new kitchen - would not hesitate to recommend Ricardo to anyone looking to change their kitchen!
Brigitte | October 8, 2020
Ricardo's work fitting our beautiful new kitchen far exceeded our expectations. He designed the kitchen for us after listening to roughly what we wanted which we were very happy with. During installation week, Ricardo got on with the job with no fuss or stress to us which is very rare in a workman. He is an absolute perfectionist which shows in the finished product which is absolutely stunning. He completed the installation in only four days. Lastly, the cost of his labour in our opinion is very fair considering the high quality of his skills. I really do recommend this company to anyone looking for quality at an affordable price
Emma L | October 8, 2020