Family run Electrical contractors covering all aspects of Electrical works. NICEIC approved and Part P registered.
Covering London and Home county areas.
Lightwave professional installers
Periodic Inspection in the Private Rented Sector
UKAS UK Accreditation Service
Hudson are expert Party Wall Surveyors, a Chartered Surveying practice specialising in Party Wall Matters.
As Chartered Party Wall Surveyors we are proud members of the prestigious Royal Institution of Chartered Surveyors (RICS). The Royal Institution of Chartered Surveyors promotes and enforces the highest professional qualifications and standards for RICS Party Wall Surveyors.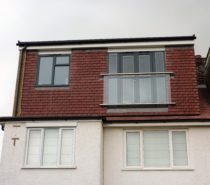 Why Choose Cox Format to manage your Building Project
Loft conversion project in North London
Cox Format will only build to a specification that a local authority licensed building inspector has approved and we won't even start work on a project until it has been reviewed and signed off. This isn't true of some other building firms, which could lead to all sorts of complications for you further down the road if Building Regulations approval isn't given. Most reputable builders have an order book and committed to work in advance, some 3-6 months. Builders that can start 'tomorrow' or very quickly following the initial contact are generally not busy for a reason.
Loft Conversion Specialists